KIE scholar publishes first-of-its-kind disability bioethics reader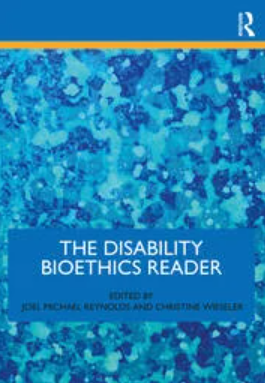 Senior Research Scholar Joel Michael Reynolds (new window) and Christine Wieseler, Assistant Professor in the Department of Philosophy at the California State Polytechnic University, celebrated the one-year anniversary of the publication of The Disability Bioethics Reader (new window) in May. Published by Routledge in 2022, The Disability Bioethics Reader is the first introduction to the field of bioethics presented through the lens of critical disability studies and the philosophy of disability.
"Whether you teach in a university, school of medicine, or community college, this book fills an important and needed gap," says Reynolds. Introductory and advanced textbooks in bioethics focus almost entirely on issues that disproportionately affect disabled people and that centrally deal with becoming or being disabled; however, such textbooks typically omit critical philosophical reflection on disability. Directly addressing this lacuna, the volume includes 36 chapters that cover key areas in bioethics, such as:
state-of-the-field analyses of modern medicine, bioethics, and disability theory
health, disease, and the philosophy of medicine
issues at the edge- and end-of-life, including physician-aid-in-dying, brain death, and minimally conscious states
enhancement and biomedical technology
invisible disabilities, chronic pain, and chronic illness
implicit bias and epistemic injustice in healthcare
disability, quality of life, and well-being
race, disability, and healthcare justice
emerging connections between disability theory and aging studies, disability theory and trans studies, as well as disability theory and fat studies
prenatal testing, abortion, and reproductive justice.
The Disability Bioethics Reader, unlike traditional bioethics textbooks, also engages with over fifty years of empirical and theoretical scholarship in disability studies―scholarship that spans the social sciences and humanities―and gives serious consideration to the history of disability activism and the testimony of disabled people. "I'm thrilled at the work carried out by leading scholars across the volume's over 400 pages," says Reynolds. The book recently received a review in Medical Law Review, where Dr. Helosie Robinson writes that it "covers an impressive range of topics. . . [and] a wealth of diversity in issues, perspectives, and arguments . . . . Overall, this book is an excellent resource, and should be considered by those designing university courses relating to bioethics [and] medical law and ethics."
Reynolds joined the KIE in 2020, and they are the founder of The Journal of Philosophy of Disability (new window) and co-founder of Oxford Studies in Disability, Ethics, and Society (new window). An internationally recognized expert on disability bioethics, they have given more than one hundred lectures, keynote addresses, and conference talks across the globe, and they are author or co-editor of six books as well as author of over fifty journal articles, book chapters, and scholarly commentaries spanning the fields of bioethics, the health humanities, and philosophy.